CINDY PETERSON -----------1ST PLACE AGE 70 AND OVER
TIME ------------7: !7: 39
7 CONTINENTS MEDAL AWARD
Arriving in Kenya was Exciting , reaching the Equator Amazing and after settling down in the Lewa Wildlife Conservancy, a few fantastic Safari Game Drives, finally comes "RACE DAY."
Seeing Warning signs all over stating "RUN AT YOUR OWN RISK" (LIONS, HIPPOS, ELEPHANTS ETC) is a little disturbing and dangerous. However, any running has a little risk , and is the nature of the sport. I was more concerned about my Grandson Matt, 23 years old, who was running his first Half Marathon on terrain that looked more like a tough Trail Run.
The GUN GOES OFF, for 926 Half Marathoners and 165 Full Marathoners.
There was no sight seeing for me since I needed to keep my head down watching out for all the embedded rocks as well as the deep Ruts and Gulleys. About 6 miles into the race, I took a fall on my knees.
A little embarrassed, I picked myself up and continued running with skinned knees. Around the 9th mile, I took another fall, and this time had to have medical attention on my knees and elbows. This took time , but the Medics insisted that the dust and dirt in the wind on my open wounds was not good, and had to be cleaned and bandaged up. The bandages would not stay up , but I had to keep running anyway. Since I didn't see Matt along the way, I knew he must be doing OK.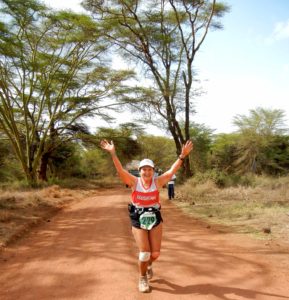 At that point I became anxious, because you had to cross the halfway point by 3 hours and 20 minutes, or they would take you off the course.
I was approaching the 12th mile when I tripped again for the 3rd time. I was devastated to say the least and didn't have time to stop for Medical assistance until after the half way point, because the clock was ticking and I had a little over a mile to go.
I needed to give myself a blast of encouragement when I remembered a great quote. "OUR GREATEST GLORY IS NOT IN NEVER FALLING, BUT IN GETTING UP EVERY TIME YOU DO." –-------------Confucius
I DID NOT COME ALL THIS WAY TO QUIT NOW!
I had about 25 minutes to reach the half way point, and, with a rush of adrenaline, I started running and reached the half way mark at 3 hours and 10 minutes, and was able to continue on to the Full Marathon. They did not care how long it took you to finish after that.
At the14th mile I had stopped for medical attention on my knees because by now they were pretty banged up and painful. However, I was really motivated now because I could walk the rest of the way, to finish my 7th Continent, until I heard the motorcycle driver announce that I was the Last Runner.
OMG. How am I going to face my friends and family as the last runner when I trained to finish a 5 and a half hour Marathon. I could see the next to the last runner way in front of me, and decided to catch up and pass him so I wouldn't be last.
All of a sudden I saw Zebras crossing in front of me, and Giraffes and Gazelles on either side of the road. The animals sensed that there were no more runners and could come back to their territory. This was frightening, and was not the same feeling as watching them from a jeep.
Wow! I looked up to see the spotter plane and the helicopter coming down to chase the animals away. Then came 3 motorcycles, 2 jeeps, and 2 Game Wardens with rifles to guide my way.
It sure was comforting to have all this attention, and the thought of passing the runner in front, suddenly left me. I FELT LIKE A ROCK STAR!
The Motorcycle guys assured me that they would stay in front of me all the way to the Finish, and the jeeps would be close behind, as well as the 2 Game Wardens with Rifles. I knew at that point that I could enjoy the rest of the Marathon, and another quote came to mind for encouragement. "IT DOES NOT MATTER HOW SLOWLY YOU GO SO LONG AS YOU DO NOT STOP.-------------------Confucius.
My knees were well bandaged now, and I was so excited stopping at all the Water Stops, taking pictures with the Volunteers, the Masai, and the Locals.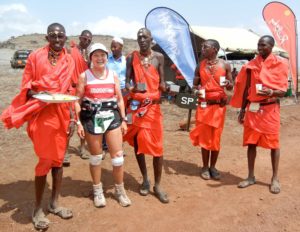 I was approaching the last 400 meters when I saw my directors Kelly and Jacquie, running towards me to guide me to the Finish. It was so great to see them that it brought me to tears!
There at the Finish were all my Teammates, and then some, cheering me on as though I was the First Runner. I slowly ran into the arms of my Grandson Matt. It was exhilarating, especially to learn that Matt finished his first half Marathon in 2 hrs and 29 minutes.
The Award Ceremony was later that night and after Matt roasted me, he put the 7 Continents Medal around my neck. How exciting is that!!
It was a very moving experience for me to finish my 7th Continent in Kenya!
Out of 41 Marathons, this was the most challenging and difficult Marathon I have ever run, but the MOST MEMORABLE AND MOST REWARDING!!!!!!!
I would like to finish with this last thought.
"IF YOU ARE NOT FAST ENOUGH TO FINISH FIRST, ENJOY THE GLORY OF COMING IN LAST LIKE A ROCK STAR!!